Buying the bike of your dreams is now within reach with financing options from PayPlan by RBC.

Now you can finance your next bike purchase with PayPlan by RBC! To finance your bike purchase, fill in a few details during the checkout process to find out if you qualify.
Affordable Monthly Plans - Buy now and pay for your purchase(s) over time at competitive interest rates with no hidden fees.
No Prepayment Penalties – Pay for your purchase with monthly payments and prepay at any time without penalty.
Fast & Easy Application – Get a decision quickly with no obligation to buy and no impact on your credit score when you pre-qualify.
Safe and Secure - Shop with confidence knowing your data is safe and protected.
How to Finance Your Next Bike Purchase
Step 1  Add your bike to your ecommerce shopping cart.
Step 2  During the checkout process, on the payments screen, choose PayPlan by RBC...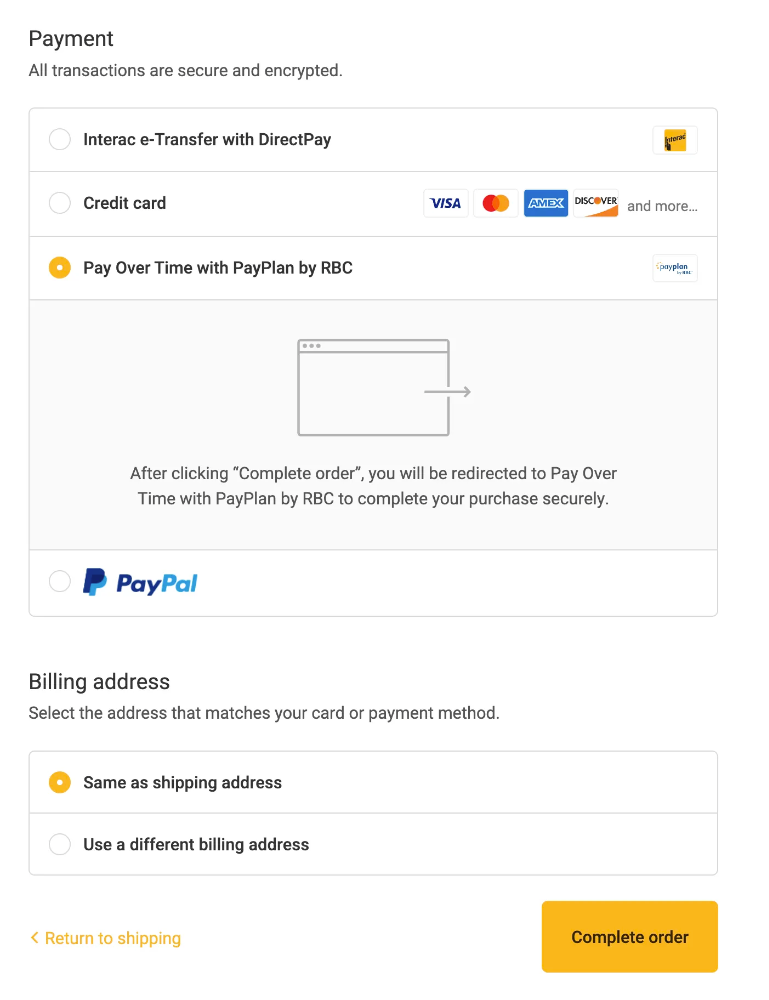 Step 3  Financing approval - Once your purchase has been approved for financing, complete the checkout process.
Step 4  Enjoy your dream bike once it's delivered!
Frequently Asked Questions
What purchases are eligible for financing?
Financing is subject to lender approval

The minimum amount that can be financed is $300

The maximum amount that can be financed is $10,000

Financing cannot be combined with other promotions or free shipping
Is there a required fee to finance my bike purchase?
There are no upfront fees required. However, the interest charged will depend upon your credit rating.
Are there any penalties for paying my outstanding balance early?
There are no penalties for pre-paying your outstanding balance.
I was not able to finance my purchase with PayPlan by RBC. What happened?
Financing is approved based on your credit profile or the ability for RBC to verify your application.
How can I process a refund if I financed my purchase?
To request a refund and return, contact the Bicicletta Rider Support Team. Returns are subject to a 10% processing fee.